Jerusalem stone
---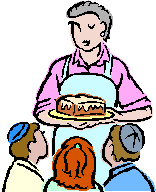 SISTERHOOD MESSAGE
Our Sisterhood is a group of women who have come together for one main purpose - to support Congregation B'nai Torah in every way we can. We'd like to highlight some of our efforts.
Dedicated Sisterhood members provide an Oneg and Kiddush every Shabbat, as well as refreshments for special occasions and holidays. Jo Ann Singer and Lea Moskowitz, along with their dedicated crew, welcome all who wish to help. We gather together for happy occasions, but also when there is a loss, by providing Shiva trays for the mourners.
Our annual fundraisers include a Make-Believe Event, a "do not miss" occasion; Card and Game Parties; and Restaurant Discount Coupon Books, among other events. We have meetings every two months, when we have a short program after our business meeting. It might be a book review, an informative video, flower arranging, or a speaker on a subject of interest. We enjoy the socializing, too, and have an annual Closing Dinner, with spouses, at the end of our season.
Due to the dedication and experience of our Gift Shop Committee, we have an outstanding Gift and Judaica Shop, well stocked with many new items as well as old favorites. The Shop is available Monday to Friday, 10AM to 2PM, and by appointment at other times or days.
Finally, the yearbook is our biggest project, and the one that produces the most revenue. Jo Ann Singer and Carole Miller put the book together, with the help of each member who has contributed an ad, or obtained commercial or personal ads. All are to be commended and congratulated for their participation.
Our Sisterhood Officers, Trustees and members work hard and do a great job, whatever the undertake, and we sincerely appreciate what they do. We look forward to many good years, and hope to have many new members joining our group, sharing the satisfaction we derive from working together.
Lois Liebman and Jo Ann Singer
Co-Presidents